Commercial Building
QuikDeck Series
System-type Suspended work Floor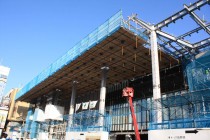 QuikDeck offers high levels of safety, construction performance, and efficiency in construction and maintenance of bridges, factories, shipbuilding, and construction in large spaces where access has traditionally presented difficulties. Moreover, our comprehensive product lineup and engineering capabilities will provide work spaces that are easy to access, secure, and that contribute to advances in comfort and safety.

Based on our know-how accumulated over the course of the adoption of our products for use in well-known bridges, factories, and architectural structures the world over, we offer the QuikDeck as a scaffolding innovation that is the result of the high-level fusion of our capabilities to clear strict safety standards and the construction conditions of Japan!
Advanced Facade Frame
Aluminum Handrail Frame with Baseboard for Prefabricated Scaffolding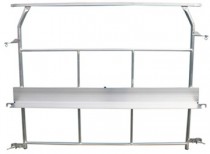 The Advanced Facade Frame is a new type of safety component for handrail presetting work compatible with the revised Industrial Safety and Health Law and features handrail presetting, two-level handrail, baseboard (toe board), and diagonal-brace crossing functions.
Toe Board
Scaffolding and Construction Equipment Association of Japan-certified One-Touch Baseboard (Toe Board) Requires No Tools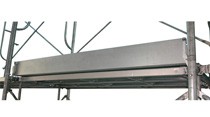 Stanchion
Guard post – Short Fall-prevention Pillar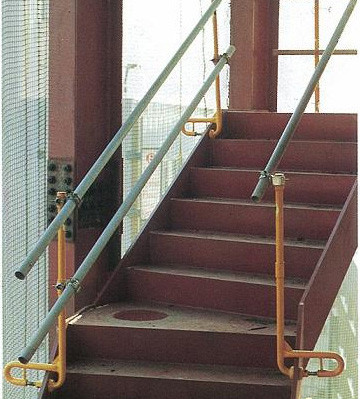 The Nisso Stanchion is a temporary fall-prevention unit installed in places with a risk of falling, such as corridors and work floor edges and openings.

The Ministry of Health, Labor and Welfare and the Scaffolding and Construction Equipment Association of Japan set the Safety Standards for the Prevention of Falling under which an Approval Standards System was implemented for short pillars mounted with fixtures and parts used for temporary protection called guard posts.

The Nisso stanchion has enjoyed long-standing popularity and demonstrates unrivalled quality and strength with no change in shape, as well as outstanding safety, economy, and logic that matches the above Approval Standards.
Angel's wing
Hanging Duralumin Stage for Final Tightening of Beams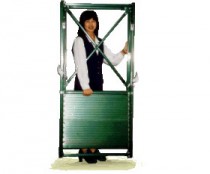 Angel's wing (PATD) is an outstanding product created by applying the extensive experience and advanced technologies of Nisso Industries. Ease of installation, removal, and transport make Angel's wing popular on construction sites. Angel's wing comes into its own for the final tightening with bracket-type steel columns.

With additional options mounted, Angel's wing can be used for repair of concrete handrails.
Column Stage
Scaffolding for Beam Bolting and Column Welding Work

The Nisso Column Stage is an easily installed scaffolding stage for column welding and beam capture and welding for non-bracket-type columns.

Use of pre-welded hooks enables direct installation on the columns.
*Pre-welded hooks must be installed by fabrication.
Flying Bridge
Portable Safety Passageway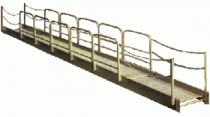 Nisso Industries' Flying Bridge (PAT.) is a portable aluminum alloy unit-type passageway developed with the focus on workability, safety, and functionality.

The compact, lightweight design makes it easy to carry. In addition, the telescopic structure makes it possible to adjust the length in 50 mm increments. The Flying Bridge can be used as a safety passageway on joists or on ground scaffolding.
Roof Fall-Protection
Safety Belt Fastening Equipment Prevents Falls and Tumbles from Folded-plate Roofs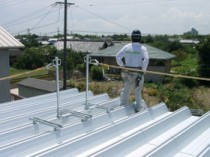 The seam-fastening-type long metal folded-plate roof is often used in large-space structures, such as shopping centers and warehouses.

Lifeline system for safety belt fastening equipment to prevent falls or tumbles from the edges of roof eaves, verges, or openings.
Variable Stair:Universal Unit Adjustable Stairs – Ascending/Descending Equipment for Slopes
2012 Recommended Technology (New Technology Application Systems Review Meeting (Ministry of Land, Infrastructure, Transport and Tourism)) Registration Number: KT-090046—V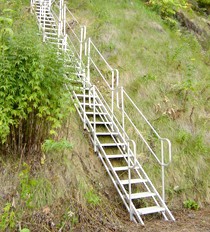 Since its foundation, Nisso Industries has promoted the development of scaffolding for construction, civil engineering, factories, and shipbuilding to ensure work safety in difficult construction areas and curved surfaces. To address the problem of frequent accidents of falling or stumbling during construction on slopes, Nisso Industries has applied its accumulated scaffolding engineering skills and capabilities to develop scaffolding for use on slopes that provides a high level of safety.

Against this background and as a measure to prevent accidents involving falling on slopes, between 2002 and 2012, the Ministry of Land, Infrastructure, Transport and Tourism proposed the installation of ascending/descending equipment on large-scale construction sites or sloped construction sites as one of its measures for the prevention of accidents. Thus, the product conforms to national safety policies.

This technology was designated as practical design comparison target technology under NETIS (New Technology Information System of the Ministry of Land, Infrastructure, Transport and Tourism) and selected as the recommended technology by the New Technology Application Systems Review Committee of the Ministry of Land, Infrastructure, Transport and Tourism in June 2012.
Site Walkway
Walkway and Ladder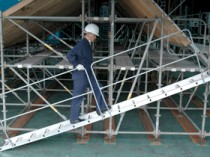 Features
Featuring a walkway on top and a ladder on the back, the unit can be mounted with handrails and back boards.
Usable over a maximum support distance of 3.6 m and capable of bearing 100 kg, the unit offers a 2.2-times safety factor. (A centrally concentrated of 200 kg over a support distance of 1.8 m).
Lightweight aluminum alloy structure.
Extendable using connecting fixtures.
Features thre surface shapes.
Octagon Modular Scaffold
Wedge Binding System Scaffolding and Shoring
3S Modular scaffold
Scaffolding
Shoring
Structure

As indicated by its name, the 3S Modular scaffold is often used for temporary scaffolding, shoring, and stands in civil engineering, construction, and factories, as well as a wide range of other applications. The system has a truly impressive reputation.
Suspended Pallet
Net Pallet for safe Hoisting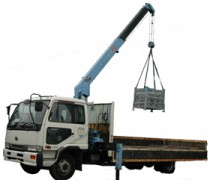 Since its establishment, Nisso Industries Co., Ltd., has supplied temporary equipment for use in construction, civil engineering, factories, and shipbuilding. In recent years, diverse needs have emerged in the logistics industry for safe, energy-saving equipment engineering, and in response, Nisso Industries focused on the development of product engineering, which culminated in the Suspended Pallet, a foldable net pallet, and the company's first product in the field of logistics.