Civil
QuikDeck Series
System-type Suspended work Floor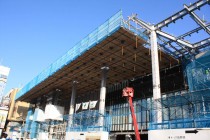 QuikDeck offers high levels of safety, construction performance, and efficiency in construction and maintenance of bridges, factories, shipbuilding, and construction in large spaces where access has traditionally presented difficulties. Moreover, our comprehensive product lineup and engineering capabilities will provide work spaces that are easy to access, secure, and that contribute to advances in comfort and safety.
Based on our know-how accumulated over the course of the adoption of our products for use in well-known bridges, factories, and architectural structures the world over, we offer the QuikDeck as a scaffolding innovation that is the result of the high-level fusion of our capabilities to clear strict safety standards and the construction conditions of Japan!
Octagon Modular Scaffold
Wedge Binding System Scaffolding and Shoring
3S Modular scaffold
Scaffolding
Shoring
Structure

As indicated by its name, the 3S Modular scaffold is often used for temporary scaffolding, shoring, and stands in civil engineering, construction, and factories, as well as a wide range of other applications. The system has a truly impressive reputation.
Variable Stair:Universal Unit Adjustable Stairs – Ascending/Descending Equipment for Slopes
2012 Recommended Technology (New Technology Application Systems Review Meeting (Ministry of Land, Infrastructure, Transport and Tourism)) Registration Number: KT-090046—V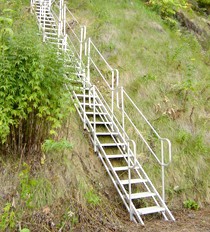 Since its foundation, Nisso Industries has promoted the development of scaffolding for construction, civil engineering, factories, and shipbuilding to ensure work safety in difficult construction areas and curved surfaces. To address the problem of frequent accidents of falling or stumbling during construction on slopes, Nisso Industries has applied its accumulated scaffolding engineering skills and capabilities to develop scaffolding for use on slopes that provides a high level of safety.

Against this background and as a measure to prevent accidents involving falling on slopes, between 2002 and 2012, the Ministry of Land, Infrastructure, Transport and Tourism proposed the installation of ascending/descending equipment on large-scale construction sites or sloped construction sites as one of its measures for the prevention of accidents. Thus, the product conforms to national safety policies.

This technology was designated as practical design comparison target technology under NETIS (New Technology Information System of the Ministry of Land, Infrastructure, Transport and Tourism) and selected as the recommended technology by the New Technology Application Systems Review Committee of the Ministry of Land, Infrastructure, Transport and Tourism in June 2012.
Advanced Facade Frame
Aluminum Handrail Frame with Baseboard for Prefabricated Scaffolding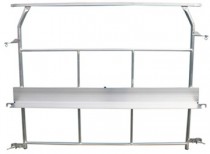 The Advanced Facade Frame is a new type of safety component for handrail presetting work compatible with the revised Industrial Safety and Health Law and features handrail presetting, two-level handrail, baseboard (toe board), and diagonal-brace crossing functions.
Toe Board
Scaffolding and Construction Equipment Association of Japan-certified One-Touch Baseboard (Toe Board) Requires No Tools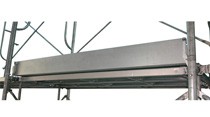 Suspended Pallet
Net Pallet for safe Hoisting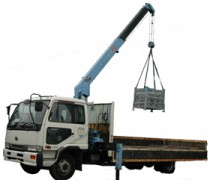 Since its establishment, Nisso Industries Co., Ltd., has supplied temporary equipment for use in construction, civil engineering, factories, and shipbuilding. In recent years, diverse needs have emerged in the logistics industry for safe, energy-saving equipment engineering, and in response, Nisso Industries focused on the development of product engineering, which culminated in the Suspended Pallet, a foldable net pallet, and the company's first product in the field of logistics.