River Related Improvement
QuikDeck Series
System-type Suspended work Floor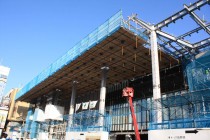 QuikDeck offers high levels of safety, construction performance, and efficiency in construction and maintenance of bridges, factories, shipbuilding, and construction in large spaces where access has traditionally presented difficulties. Moreover, our comprehensive product lineup and engineering capabilities will provide work spaces that are easy to access, secure, and that contribute to advances in comfort and safety.
Based on our know-how accumulated over the course of the adoption of our products for use in well-known bridges, factories, and architectural structures the world over, we offer the QuikDeck as a scaffolding innovation that is the result of the high-level fusion of our capabilities to clear strict safety standards and the construction conditions of Japan!
Flying Bridge
Portable Safety Passageway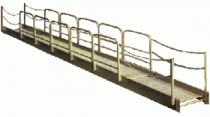 Nisso Industries' Flying Bridge (PAT.) is a portable aluminum alloy unit-type passageway developed with the focus on workability, safety, and functionality.

The compact, lightweight design makes it easy to carry. In addition, the telescopic structure makes it possible to adjust the length in 50 mm increments. The Flying Bridge can be used as a safety passageway on joists or on ground scaffolding.