Earth Protection
Variable Angle Platform System
Machine Platform System Scaffolding (NETIS Registration Number: KT-160136-VE, Design Comparison Target Technology)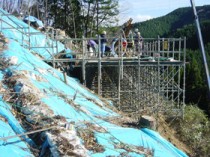 The Variable Angle Platform System is scaffolding for applications as a machine platform or drive-on platform for drilling machines used in anchoring or boring work.

The Variable Angle Platform System makes use of the features of the wedge scaffolding and shoring equipment of the NIsso 3S Modular scaffold developed 18 years ago and, compared to the previous machine platform manufactured by a time-consuming and troublesome single pipe + clamp process, can be more safely implemented and turned. In addition, slopes formed from concrete and soil require strength calculations and drawing changes depending on the site, so the Variable Angle Platform System couplings come in three types: (1) hammer-in type, (2) free angle type, and (3) flat type, providing flexibility to adapt to site conditions.
Variable Stair:Universal Unit Adjustable Stairs – Ascending/Descending Equipment for Slopes
2012 Recommended Technology (New Technology Application Systems Review Meeting (Ministry of Land, Infrastructure, Transport and Tourism)) Registration Number: KT-090046—V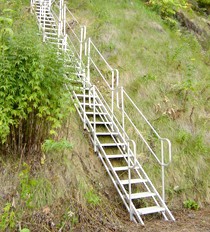 Since its foundation, Nisso Industries has promoted the development of scaffolding for construction, civil engineering, factories, and shipbuilding to ensure work safety in difficult construction areas and curved surfaces. To address the problem of frequent accidents of falling or stumbling during construction on slopes, Nisso Industries has applied its accumulated scaffolding engineering skills and capabilities to develop scaffolding for use on slopes that provides a high level of safety.

Against this background and as a measure to prevent accidents involving falling on slopes, between 2002 and 2012, the Ministry of Land, Infrastructure, Transport and Tourism proposed the installation of ascending/descending equipment on large-scale construction sites or sloped construction sites as one of its measures for the prevention of accidents. Thus, the product conforms to national safety policies.

This technology was designated as practical design comparison target technology under NETIS (New Technology Information System of the Ministry of Land, Infrastructure, Transport and Tourism) and selected as the recommended technology by the New Technology Application Systems Review Committee of the Ministry of Land, Infrastructure, Transport and Tourism in June 2012.
Octagon Modular Scaffold
Wedge Binding System Scaffolding and Shoring
3S Modular scaffold
Scaffolding
Shoring
Structure

As indicated by its name, the 3S Modular scaffold is often used for temporary scaffolding, shoring, and stands in civil engineering, construction, and factories, as well as a wide range of other applications. The system has a truly impressive reputation.
Site Walkway
Walkway and Ladder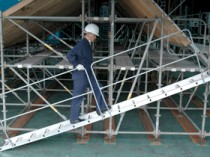 Features
Featuring a walkway on top and a ladder on the back, the unit can be mounted with handrails and back boards.
Usable over a maximum support distance of 3.6 m and capable of bearing 100 kg, the unit offers a 2.2-times safety factor. (A centrally concentrated of 200 kg over a support distance of 1.8 m).
Lightweight aluminum alloy structure.
Extendable using connecting fixtures.
Features thre surface shapes.
Suspended Pallet
Net Pallet for safe Hoisting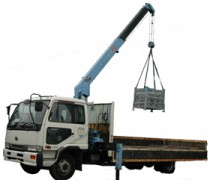 Since its establishment, Nisso Industries Co., Ltd., has supplied temporary equipment for use in construction, civil engineering, factories, and shipbuilding. In recent years, diverse needs have emerged in the logistics industry for safe, energy-saving equipment engineering, and in response, Nisso Industries focused on the development of product engineering, which culminated in the Suspended Pallet, a foldable net pallet, and the company's first product in the field of logistics.