Variable Angle Platform System
Machine Platform System Scaffolding (NETIS Registration Number: KT-160136-A, Design Comparison Target Technology)
The Variable Angle Platform System is scaffolding for applications as a machine platform or drive-on platform for drilling machines used in anchoring or boring work.

The Variable Angle Platform System makes use of the features of the wedge scaffolding and shoring equipment of the NIsso 3S Modular scaffold developed 18 years ago and, compared to the previous machine platform manufactured by a time-consuming and troublesome single pipe + clamp process, can be more safely implemented and turned. In addition, slopes formed from concrete and soil require strength calculations and drawing changes depending on the site, so the Variable Angle Platform System couplings come in three types: (1) hammer-in type, (2) free angle type, and (3) flat type, providing flexibility to adapt to site conditions.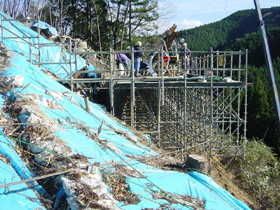 Features
One hammer is all that is needed to assemble and dismantle the unit
No loosening of wedges after assembly caused by vibration from drilling machines or other equipment
Readily compatible with sites featuring high levels of undulation
Parts are minimally-sized and can be carried by hand.
The hot-dip galvanized finish provides outstanding rustproof performance.
Wide range of types and parts available to match the size of sites
The unit is systematized, making platform turning easy.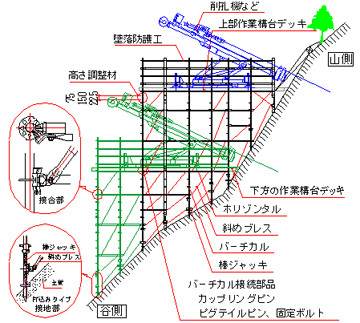 Examples of Use