Quik Deck
QuikDeck is a patented product manufactured by Safway, the largest and oldest manufacturer of temporary building materials in the United States. QuikDeck has been extensively used in new and maintenance construction projects, including the famous Madison Square Garden in New York City and the Golden Gate Bridge in San Francisco, since it was introduced in the United States in 2003. QuikDeck has been selected outside the United States from Canada, Brazil, and Europe to Asia, living up to the title of world-standard suspended access system. Nisso Industries formed a business tie-up with Safway for exclusive distribution of QuikDeck in the Japanese and South Korean markets and a production transfer agreement in June 2014. Nisso Industries began production and distribution along with rental services within Japan. In addition, QuikDeck has been patented in Japan.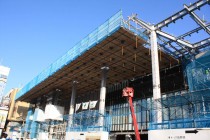 Features
Simple Assembly
All the structural parts are systematized to make it possible to assemble the product manually without the need for specialized tools.
Outstanding System Strength
The combination of the joist (main beam) realizes greater strength and lightness by adoption of a truss structure, and the dedicated high-strength chain results in a maximum live load of 350 kg/m2 and a chain pitch of 5 m x 5 m.
Safe, Rapid Construction of Temporary Stage Traditionally Regarded as Difficult
The high parts rigidity and horizontal rotation assembly method makes it possible to work safely by applying the preceding floor method at a maximum projection of 5 m from the point of suspension with no need for dangerous work procedures in high places.
Provision of Comfortable Work Spaces
The wide-pitch suspension chain with minimal slackness provides a comfortable work space with no differences in levels or openings.
Dramatic Reduction in Work in High Places Using Suspended Units
Floor units of a maximum of 12.5 m x 7.5 m can be suspended at four points
Assembled floor units can be suspended vertically and set in place. Maximizing assembly on the ground minimizes the amount of work performed in high places, thus improving safety and reducing construction time.
Wide Range of Options to Resolve Obstacles to Construction
Items can be suspended from chains from any point on the joist (main beam), eliminating restrictions on hanging styles, thus making it possible to suspend items from limited hanging stiles on structures. Optional floor parts are available to provide a work floor with no openings or differences in level that present obstacles for the scaffolding.
Examples of Use